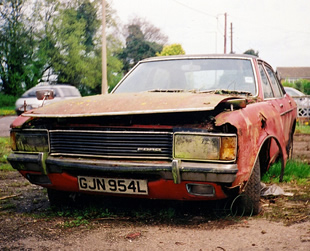 Old Car Removal Sydney
At Cars Wanted Sydney, we take care of all your old, scrap, broken, accident, damaged, used, and unwanted cars that are not worth registering anymore.
So, as long as you have these cars occupying valuable space in your yard, simply fill up your details in the form provided on our website or give us a call, and receive instant quote for your junk cars, vans, trucks, and old cars.
If you've been in any car accident, or have an old car that's worthless to you and taking up space in your yard, wait no more and turn to us to convert this inconvenience and calamity into success.
With our reputable old car removal service, you can easily triumph in you situation and can actually get a good deal out of it.
Just when you though you were losing your investment with your car, our team will visit your place and offer you quick vehicle removal service that offers affordability, a completely carefree experience and lots of cash in your pocket.
You can either call us on: 0411 622 205
or you can simply contact us online to make arrangements to pick up your car or any other vehicle.
A quick one Hour service across Sydney with top dollars up to $10,000 paid in pure cash, we have been offering Old Car Removal service since years.
We cover all areas of Inner West right up to the foot of mountains, in greater Sydney, Richmond, Bondi up to Brookvale and up to far north.
If you really want to benefit from our reliable service, there's no job too small or too hard for us, instantly give us a call and we can definitely guarantee you complete satisfaction within hours of your call. We guarantee immediate removal of your old vehicles free of charge.
We would also like to tell everyone that we're now even more experienced in buying oversized trucks (Toyota, Mitubishi, Nissan, Daihatusu, Mercedes, etc) and have perfect tools and strategies on how to handle them which helps us pay you top dollar with much lesser overheads.
Old Car Removal Service
After thorough inspection by our handlers and removal of all usable parts, the remaining scarp will be crushed and recycled. We care about our environment, so you can be rest assured your scrap will be handled by experienced recyclers.
We can assure you your car or truck will be thoroughly inspected and recycled by the best people of our team in an environmentally friendly way.
Old Car Removals Sydney Guaranteed!
Our company serves all Sydney suburbs and our friendly people will be happy to provide you instant quote and will also do everything possible to arrange a free pickup when you contact us.
We offer instant cash for your junk and payment will be made on the basis of the condition of your vehicle.
It's so simple, just few easy steps and you're done!
Why not fill our short enquiry form and one of our team members will immediately call you to provide the quote for your old car removal Sydney.
We will also assist you with the necessary paper work for free and number plate disposal, for more information you can visit http://www.rms.nsw.gov.au
You're just one phone call away from your junk car removal and can receive the highest possible rate in the market as payment, all at your door step.
Call us, Get the best quote, we organize a truck, get paid Cash and will take care of your scrap and salvage cars.
Call Cars Wanted Sydney on: 0411 622 205 now to find out more and to book an a appointment to recycle your car.